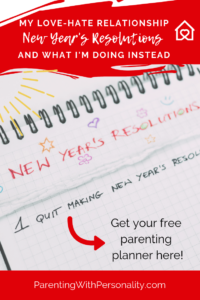 It's coming soon…
Yes, that time is nearing. I can feel it breathing on me, like a toddler with a nasty cold. I am waiting for the dreadful sneeze or a cough that will come just as he looks squarely in my eye! Then just as you intently lock eyes with that look of love that you couldn't resist or leave unanswered, it happens. You close your eyes to avoid the outcome, but the slimy residue covering your face is a stark reminder that you just looked your sweet but sick toddler right in the eye, again! New Year's resolutions can feel similar. We face them with a little dread but can't ignore them staring us in the face. When we finally meet them head on, we may find that our failed attempts leave us feeling like more of a mess and less motivated than before.
Maybe you are gung-ho for New Year's resolutions and already have yours picked for the upcoming year. Great! Possibly you hate them and avoid them with a passion. That's ok. And perhaps you are somewhere in the middle. You know there is value in setting goals and approaching your year with a sense of motivation and plan, but you have kind of grown to hate even the words…New Year's Resolution. And I understand.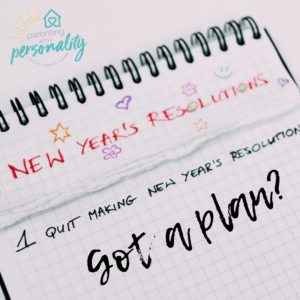 What can we do about it?
So how can we approach this new year with some gumption, some intrigue, some excitement?! How can we set forth with a renewed sense of motivation and focus? How can we make this year feel different than the rest? How can we go about pursuing some goals and direction with focus, productivity, enjoyment, and fun? I have an idea! And I am so excited to share it with you!
While debating my resolutions last years, I came up with a new idea. I wanted to approach my year with intentionality. I wanted some focus and desire to pursue something greater than just the norm, the everyday, the usual. So I chose a theme word for my year. Then I shared that theme word with my immediate and extended family. I also encouraged each of them to come up with a word. I didn't have to debate long, my word was on the tip of my tongue. It summed up perfectly what I wanted to keep in mind as I set out on a new year, with a new reserve of effort, and energy. This word encapsulated what I wanted to do, to offer, to be, to focus on, to impart to others. My word…Inspire!
Others in the family went around the circle and shared their words as well. Courage. Depth. Connect. Initiative. Change. Brave. Trust. Purpose. Survive. Strength. Unique. Tough. Confidence. Leader. There was no right or wrong. It could be a noun, a verb, a description, whatever each person wanted for their focus in the new year. I can't wait to get together with the family and check in with everyone at Christmas to see how their word affected their year. I know some have already given me their experiences. Their words served as an accountability or checkpoint. Their word kept them going when things got tough. Their word encouraged them when they needed it most.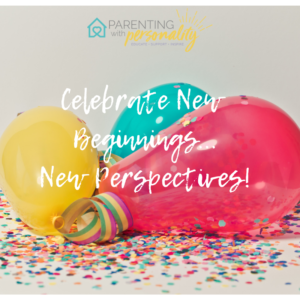 Which will you choose?
I urge you to think about the word that you would most like to package and take with you as your focus and purpose for the coming year. You might need to think through some of the following questions to arrive at your word:
What do I want more of?
What do I want to share with others?
Was there anything this past year that I want to take on with new strength this coming year?
How might I find my best focus this coming year?
If I were to have just one year left on this Earth, what would I want surrounding me?
These questions might bring light to a theme or quest in your own heart or life. For more help in choosing your word, check back for next week's blog article 5 Easy Steps to Choose a Word for the Year That Can Change Your Life.
As you remember, my word for the year was inspire. I wanted to seek things that would inspire me. I wanted to offer inspiration to others. When others had been in my presence, I hoped they would leave feeling more inspired than they were before. I wanted to leave them in better shape than they were prior to our meeting…feeling more encouraged and inspired for whatever challenge they may be facing. I wanted others to feel better equipped, more supported, and inspired by the things I could share, give, speak about, or encourage them with. As this year draws to a close, I am reflective on the word once again. My hope for inspiring doesn't stop here. In fact, I am finding it hard to find a word I like better for the coming year!
[bctt tweet="It is so easy to just keep doing life but lose all aspects of being intentional in what we are doing, pursuing, or learning. " username="personalitymom"]
A Gift for You
But I'd like to draw this year to a close and share with you a special gift to inspire you this coming year. Maybe this new inspiration will help you face the new year with a new perspective and plan. I have designed a Parenting Planner. This planner is what I am taking into the new year as a way of keeping focus and moving beyond the mundane. It is so easy to just keep doing life but lose all aspects of being intentional in what we are doing, pursuing, or learning. This coming year, I would like to share this planner with you! And maybe, just maybe you will have more success with this than the pressure of a New Year's resolution! This planner has been broken down into five different focus areas.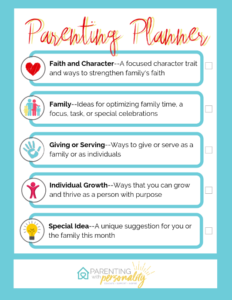 1. Faith and Character: This is a focused character trait or ways that we can strengthen the family's faith
In the busyness of everyday life, I find it easy to lose focus on the character traits that we so desperately want to instill in our children. Deciding each month what trait we can focus on will give us some intention and focus for training and guiding them in these ways. It will help put these traits in direct sight and be intentional in how we model it, discuss it, and live it out in our family.
2. Family: Ideas for optimizing family time, a focus, task, or special celebration
With the busy schedules we operate with, it is easy for family time to fall by the wayside. This is a way to get the family functioning together to accomplish, learn, or do something together. It will help us pause other activities and take time together for a shared purpose or plan.
3. Giving or Serving: Ways to give or serve as a family or individual
With busy schedules and lack of time together, giving and serving can be one of those areas that is easily forgotten. I decided that choosing a small task can give the family, or you as an individual, the opportunity to give back, serve others, and reap the benefit. You see, often we assume we have no time. When we make the time, we are shocked by the blessing it is both to the people we are giving and serving and ourselves as well! This is a great opportunity to pass it along to our children and let them learn to bless and be blessed through the process of giving and serving.
4. Individual Growth:

Ways that you can grow and thrive as a person with purpose
Being a parent can zap us of our energies. You may find yourself feeling low energy and worn out more often than not. But it is important to realize that we only have to give others what is inside us to give. Taking time for individual growth affords us the chance to fill our tanks, grow our passions, and see beyond the mundane tasks that tire us. It gives us to chance to become, to further ourselves in who we were meant to be. The process of growing and learning should only end when we die! It's a life-long and important process!
5. Special Ideas: A unique suggestion for you or the family this month
This area is for miscellaneous ideas that we might not do otherwise. Some months, it will relate to some awareness month in the news. This is a perfect opportunity to open our eyes and the eyes of our family to issues that surround us or affect other people's lives. Other months, it might be something fun or enriching! You never know…you can just anticipate! Isn't that special!?
I hope this planner helps you find focus and INSPIRATION this year. And I hope it helps you approach your role as a parent by being intentional in what you are doing. May you set out with renewed enthusiasm and eagerness to try something you've never done before. And I'd love to hear your feedback!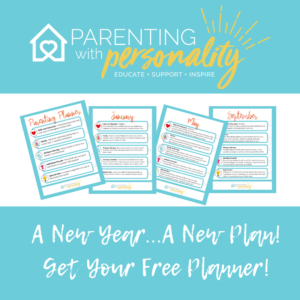 More Resources
The back of the planner offers a list of resources that relate to things suggested throughout the year. You will also be able to connect through Facebook on my Parenting With Personality page. I will be doing some live groups throughout the year and each month specifically that relate to the specific activities mentioned! So don't miss out! Like and Follow the Parenting With Personality page to get access to those videos as well as other related free resources offered through the year!
Visit this link to sign up and receive free parenting resources including this parenting planner straight to your inbox and you'll to be notified of exciting upcoming events. You won't want to miss the information on the free Facebook Challenge group, Five Days to a Refreshed Mom that was so popular last year! So sign up and get updates! And be sure to connect on other social media platforms, Pinterest at Parenting with Personality,  Twitter at Personality Mom, and Instagram in order to get all the information, freebies, and blog articles that relate to the activities and themes of this planner!
Know a mom who would love to get some fun and free resources to make their parenting job easier this coming year? Want someone to enjoy the planner with you? Looking to have a friend that seeks some order and purpose alongside you this coming year? Share this free planner with them! And encourage them to sign up for freebies as well!
May you head into this new year with a new attitude. May you feel more optimism and joy than ever before. May you feel that you are ready for a challenge. And may your eyes be wide open for all the blessings that await you and your family this coming year!
Let's do this!!

P.S. Still need some Christmas inspiration for family time or feeling a little short on joy? Check out my previous posts from this month here:
P.P.S.
If you are still looking for that perfect anytime gift for Mom that keeps giving check these great gifts out:
Get your Ultimate 72-page Parenting Journal Planner now!
It is the expanded journaling version of the free planner, order now!
Only $5