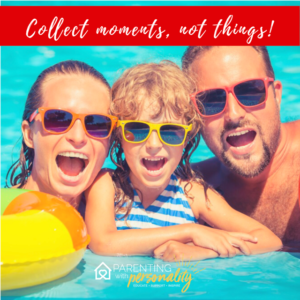 While getting ready for our recent family vacation, I was thinking through some of the things we have tried over the past 20 years of parenting. One might say we've had a lot of trial and error experiences! And over the course of the last 20 years, we have vacationed with a differing number of children, as we added children to the family! Maybe some of the top tips we've learned might inspire some of you as you head out on your family vacation. Oh, and if you haven't planned one yet…get busy!!
[bctt tweet="Take time for vacations! You can make money anytime, but you can't always make memories!" username="personalitymom"]
Vacations don't have to be big, grand, or expensive. You may decide just to do something near your hometown or something small scale. And that is fine! The point is to spend intentional time together as a family, away from the busy schedules and demands of the usual routine. Some of our most special times together have been just a couple hours from our home, doing things that are cost-effective but fun…and simply being together!
Early in our marriage, we decided we would try to do a family vacation each summer. It was important for us, even back then, to provide our children many experiences and to find time in our life to make memories together as a family. We live with a tight budget, so we have learned how to search for good deals and how to make our dollars stretch.  So, without further ado, I will share 8 Great Tips for a Great Vacation!
Talk about your vacation expectations.
Before you ever embark on a vacation, communicate with your family, both adults and children, about what it is that you desire. Do you want:
Quiet time to rest
Lots of new experiences
Healthy dose of walking and outdoor recreation
Quieter activities out of the heat
Time to just hang out at the hotel
Lots of site seeing and exploring
Accomplishing a lot in a short time
Time to splash around at the pool
Naps in the hotel room
Early or later starts to the day
So often, the stresses of vacation come with lack of communication in the beginning. Decide if your family is imagining a similar experience or if you need to try and accommodate for what everyone needs. Knowing this up front helps you make a full or less busy schedule as well as how early to start your days or finish your days. Everyone's idea of fun, relaxation, and excitement can be different. Get an idea early on for what each person may need or desire. Then work to meet the needs of each person in the family in some way. Thankfully, my husband and I share the same idea of road trips. We take the quick and easy plan. We get as close as we can, take some pictures, spend a limited amount of time and move on. Others may be frustrated at not getting out, exploring, taking it in with all the senses, and hiking around. But it works for us, as we have communicated about that! Don't underestimate the value of good communication prior, during, and even post vacation!
I remember when we visited Devil's Tower. We found a destination near the base, visited the gift store, took a few pictures and felt accomplished…check. Others may have hiked and journeyed around, getting all their senses involved in the experience. For us, it was a simple stop, picture for memories, and on to Old Faithful. And for those who have been there, it's a good thing it is beautiful site, because you do have to hike in a little ways to see it! ? And we survived!
Choose your destination and travel realistically.
Early on in our vacations, with fewer children, we would fly to a destination. But as we have added kids, we found that can be a bit cost prohibitive. So we have tried to alternate years, one year we do something smaller and closer to home and the next year, we save money to do something a little bigger. We have also discovered that flying one direction and driving the other is a great way to get a little further but not spend as much money. In fact, let me tell you how we figured out a realistic destination the past few years.
A few years back, we took six kids to Arizona. We flew there and then did a road trip back, hitting different destinations along the way. The trip worked perfectly! It was far enough away for new and different experiences, yet it was a doable distance to drive while still feeling enjoyable and fun! We had little ones we were traveling with, and we wanted to keep some focus on their traveling needs. So, we kept that distance in mind. As we planned our next trip, we got out the map and measured that same distance out. Yes, you might laugh at this, but with string and a pen! We then used that distance to draw a circle on our map. Anything within that circle was a reasonable vacation idea, as we knew we had managed that distance successfully already. Distances outside that area would have to wait. We weren't quite there yet! We chose three other destinations with this in mind. And as our kids get a little older we can increase that area as we are comfortable or willing to risk! And even just a year or two can add a lot of traveling flexibility with what they can handle comfortably.
Make a master schedule.
Now don't rush to escape this tip or scroll faster! I understand that some of you like schedules and plans and others don't. You might be surprised to learn that I am one of those that kind of detest them! But I have learned that taking a little bit of time to plan or organize a schedule, in the beginning, is truly helpful as we manage a family of nine traveling! We have developed a system over the years that involves looking for top activities, restaurants, or areas of interest in a given area. We search for the best burger, best family restaurant, best theme restaurant, best Mexican food, and the list goes on! Yes, we are quite focused on good food! In fact, we even look up restaurants that have appeared on Food Network channel!! So we can visit them! LOL!
We also look for attractions, local tours, factories, or special activity passes that might direct us to things in the area that would be unique or noteworthy. Using the trip advisor app, we look for activities, restaurants, and hotels that work well on certain days, due to being located near each other. Then we map out each day of our vacation and ideas of where to eat with each activity (and some alternate ideas of needed) we decide to do. This makes navigation apps easier, as we then have addresses on our master schedule. When we add an activity or restaurant to our master schedule, we make sure to include the following:
Name

Address

Phone

Hours

Admission prices

Special notes about parking, entrance, or other important details
I can't tell you how many times this information has come in handy as we travel. The extra information allows us to make adjustments as needed from the road. It also allows us to share a detailed itinerary with anyone that might need to find us in case of emergency (or just have a picture of what we are doing each day)! While it does take a little bit of work to prepare, I have been able to include the kids that are older in the process. This, of course, increases their participation in activities that they have helped be a part of planning. It is easier for them to buy into the activity, even if it is focused more on the little ones, if they have helped research the ideas and make a plan.
Minimize packing stressors.
Some of you may be packing for just one or two, and maybe packing doesn't feel like a big stress. If by chance you are packing for several children or you do find it stressful, I have a few things I do to limit the stress.
We pack by the day. All of the kids' clothes go in piles by the day. Each day has a different color scheme (one particular color or a couple in combination). This allows for easy planning of what we will need in the way of any hair items, socks, etc. More importantly, this plan also helps us keep organized on the road. If we find something orange, and orange day was two days ago, we know right away the item is dirty and missed the laundry bag. If we find something turquoise and gray and we have not had that day yet, we know it needs put back in the sack for turquoise and gray day! I can also easily ask for the sack of green clothes or red clothes, and at a quick glance, I can have six outfits ready to go!
We pack the kids' color-coded pile of clothes for each day in a grocery sack, and the grocery sacks go in one large duffel bag. This allowed us to pack six kids in one bag! And if our destinations change each night (which we have done before), we only needed to take in the toiletry bag and the small grocery bag of clothing to be worn the next day! A grocery bag (or two, depending on the number of nights) of pajamas is also handy. We have found this to be the most effective and organized way for us to pack. And yes, we always pack a laundry bag (or two) to bring the dirty clothes home.
Have a plan for travel time.
For our family, this included some activities as well as snacks. The kids have come to anticipate their travel bags! It's a fun tradition. Each child has a small bag with their personal snacks. They learn to limit what they eat and when. We also have a master bag, as the trip proceeds and more snacks are needing divided out. We carry some larger bags of snacks and disposable cups for road trip travels. We try to pack some books and activities (the Dollar store has some good options) in their personal backpacks, as well as their travel binder books that are dry erase pages (games on paper that are laminated or in a clear page protector). This was Pinterest inspired! I found several games online and then just printed and laminated the pages, so they could be reused with dry erase markers. I will include a couple pages you can start with if you'd like to have some activities for your child or would like to put together your own travel binder of activities. My little boys even use their books on shorter drives now.
We also have figured out a few fun plans for encouraging the kids to travel well. We give travel awards each day. It is quite simple. At the end of the day, or beginning of the following day, take a few moments to recognize what each member did well. Give them an award. It's this simple…"Carter gets the Muscle Man award. He worked really hard helping load the car." Or "Savannah gets the Caring Heart award, because I saw her help that lady when she dropped her bag." Find ways to notice what is going well on your vacation and give honest feedback for the character traits you see your family living. The kids each get an index card and then I write the name of the award on their card each day. They choose a sticker they'd like to add as well. It's been a fun tradition for all our vacations. We have even reward the Turn-Around award, for one who started the day having trouble and then got things back on track! Keep it simple and it only takes a little bit of creativity!
Another thing we have tried is wrapping a few travel treats (book, movie, crayons, window markers, stickers, word search, glow sticks, travel games, etc). As we progress through the journey, we randomly choose someone to open a good rider award. What they open is typically something they can enjoy in the car while we travel. This also has been a fun tradition.
One summer we did car bucks. Good traveling, kind attitudes, helping others, and various simple good deeds earned car bucks. Car bucks could then be turned in for travel treats, dessert at the next meal, staying up a little later, extra swim time, ordering soda, getting to pick an activity or stop, picking your own seat, getting to seat swap, etc. This was a fun little mix up in our usual travels! In fact, the kids have asked if we might just do car bucks all the time!! LOL!! I will include a link for you to download the car buck idea as well.
Maximize family togetherness.
Use your car and road time to learn about each other. Ask questions and go around with each person answering. This is time you have a captive audience! Use this as a way to make some positive and healthy connections. Take some time to play some fun travel games: name that tune, take turns picking a song to sing, I Spy, Going on a Vacation and Taking (ABC), License Plate States, etc. These are the memories that they will remember for years to come. They lead to some hearty laughs and family connection. Check out this fun list of questions you might find handy for your car rides!
Limit the time that electronic devices will be used. We try to follow a 20 and done rule. This allows them to play for 20 minutes (a reasonable time to get through levels) but then put it away and interact. Depending on the length of your travel, you can decide how often they can do the 20 minutes of time!
Utilize your table time.
Time spent in restaurants can start to be stressful on a trip. Meal after meal, there is the stress of choosing what we will eat, waiting to eat, and having patience for the whole table to get finished. This can easily become dreaded time if you don't have some plans in mind to utilize your time! Sometimes the conversations work and everyone is engaged, but other times, the little ones are restless, the older ones wearing a bit on patience, and everyone feeling hangry! In those moments, we have found a few things that have worked well. We like to have some quick tricks in our bag. The following are some simple ideas for restaurant time:
Word search or dot to dot

Uno cards

Crackers

Paper to draw

Crayons to color

Legos

Stickers and paper

Playdough

Colored foam shapes for patterns

Magnetic tic tac toe

Travel books (dry erase pages)

Small etch a sketch toy

Mazes

Fun questions to ask each other
Again, this is a time we really try to eliminate electronic use. In fact, those who seem to struggle holding them are encouraged to put them in the center of the table. They think twice about using them if everyone will see them grab it! LOL!
Rank, rate, retell—essentially, RELIVE the experiences!
This might be a new one! It might not make the list of other travel articles. But I find it very valuable in the vacation process as well as the family connection! As a tradition, we rank the restaurants we visited and the activities we did. Each person gets to rank and rate them as they wish. It generates some very interesting discussions and also some appreciation of what we have done! I must also admit that we typically have some pretty good laughs at this point. It can be quite amusing to find that the family member who ate hamburgers at each stop actually had a favorite one! And who would guess that Mom could strike out and order something odd 6 out of 10 times! LOL!! Oh, the memories!
[clickandtweet handle="" hashtag="" related="" layout="" position=""]Those things we talk about are the things we commit to our memory and our child's memory as well![/clickandtweet]
It made me laugh when I realized that our years of retelling and reliving were paying off, when our teenager asked, totally out of the blue, on our most recent vacation, "So everyone, if you could choose one day of our vacation to relive, just as it was, which day would it be and why?!" Oh my heart beamed!
Family vacations can be stressful, indeed. But hopefully, the eight tips shared will ease those stresses and give you some new and fresh inspiration! Any time you devote to spending focused on improving your family or relationship with your child is an investment! Step away from that busy schedule or work stress. Make some memories! You won't regret it!! Please feel free to share this article with your friends and family, so others might get some fresh ideas for this vacation season as well! I'd love to have you pass along some fun ideas as well. Please feel free to add your comments below with things your family has learned along the road!
Let's do this!