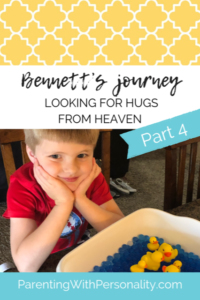 Craniosynostosis Awareness Month & Bennett's Continued Journey
This month is Craniosynostosis Awareness Month. I find it fitting to, once again, pause to help spread the word and help other parents become informed. I also find it a bit ironic that we are currently dealing with the diagnosis of craniosynostosis that affected our lives four years ago, when our little one was first diagnosed.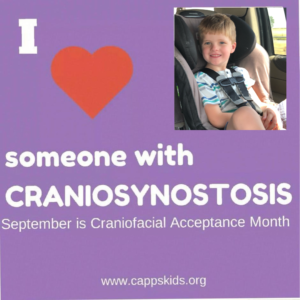 If you haven't read the first three blog posts on Bennett's Journey, you can read those to catch the back story. In short, a missed diagnosis led to a serious skull surgery for our baby's birth defect. His skull had fused prior to his birth. Once finally diagnosed, at ten months of age, surgeons had to remove, reshape, and replace pieces of his skull to allow for proper growth for his brain. Due to some rare circumstances, his skull did not close as they had hoped. So, just one short week before his fifth birthday, we are headed into surgery once again to close his little skull.
Statistics of Craniosynostosis
But before we get into Bennett's story, I'd like to share some interesting and informative statistics.
· Craniosynostosis occurs in 1 in 2,000-3,000 births. This is a birth defect where certain structures or sutures (fibrous joints of a baby's skull) fuse too early and cause an abnormally shaped head or facial features.
· Babies can experience sagittal, coronal, metopic, or lambdoid craniosynostosis.
· It may affect one single suture or more than one. Different kinds of craniosynostosis can cause different appearances of head and facial features.
· The most common suture to be affected is the sagittal suture (across the top), with nearly 60%.
· The growth pattern of the skull is consequently affected, with the potential to cause lack of space for growing brain, visual impairment, auditory impairment, sleeping impairment, eating difficulties, or delays of mental development.
*Statistics from CAPPS Kids and Cranio Care Bears websites.
For more information about how our diagnosis was finally confirmed, you might enjoy reading Part 1 in Bennett's Journey. And for a continuation, you might read Part 2 on Following Your Momsense. In part 3, I gave some insight into Finding Truth in the Tough Times. But the focus of this post is a bit different.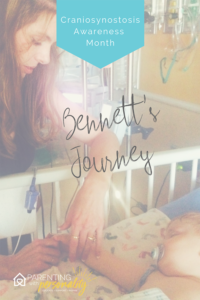 Pausing to Reflect
As I head into our second surgery with Bennett, I find myself feeling quite anxious. He is older and much more aware, with his own anxieties that I want to put at ease the best I can (but feel ill-equipped!). We know better what to expect this time (and painfully so!). And I remember feeling quite traumatized after the first round of surgery. So, as I near the coming surgery date, I have had to pause and reflect on those things that got me through the first time. Honestly, the thing that kept me going was the little winks from God that just let me feel His presence, provision, and care…about even the small things.
In Part 1, I told the story about the "special sleep" I prayed about. And in quite a bizarre and miraculous way, that prayer was answered. (If you haven't read, that, you might enjoy that story as well!) I also referred to something else that happened during our first surgery that brought me great peace. And I'd like to share and reflect on that in this post. First, because it is a very special story that might encourage others about God's unique and individual care. Second, because I can use the reminder as my anxieties grow closer about how God has proved Himself faithful before and will again.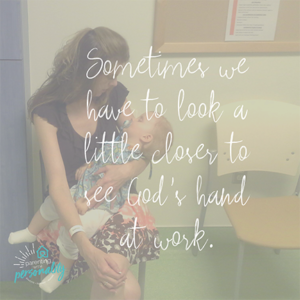 The night prior Bennett's first surgery was very difficult. I looked at this sweet little baby and struggled to get the details and Google images of this surgery from my mind. I felt a little disloyal to take this happy little baby and put him into such a horrible situation, after all, he trusted me. Even though I knew the surgery was for his best, he would be going through so much and coming out of surgery so "changed" and fragile. So as he fell asleep in my arms that night, I snuggled him close. I listened to his breathing and stroked his chubby little cheek, but I wasn't sleeping.
Words of Encouragement
God had given me the special verses in Psalm 139 as we prayed with the other kids before leaving for the hospital for the pre-op appointment, the day before surgery.
"For you created my inmost being; you knit me together in my mother's womb. I praise you because I am fearfully and wonderfully made; your works are wonderful, and I know that full well. My frame was not hidden from you when I was made in the secret place. When I was woven together in the depth of the earth, your eyes saw my unformed body." Psalm 139:13-15
They felt like a special reassurance that none of this was taking God by surprise. While we had not known his condition or that even the original pediatricians didn't know his diagnosis, God was already on this. He fashioned Bennett and formed Bennett's little skull. This was no mistake.
Finding Peace
Several times throughout the pre-op appointment and day before surgery, this verse brought great peace. So as I lay in bed, watching this precious little one sleep, I thought of those verses again. Late in the night, a family friend texted me. We had not talked in many years, but she had children in and out of the hospital frequently and was passing on a little bit of encouragement. She told me how she always liked to find a passage of scripture and put their little footprint in her Bible so that during surgery she could feel close to them.
Great idea! EXCEPT…we were staying in a hotel and I had no access to a stamp pad or paint or markers. I debated long and hard about sending my husband for one. The snoring from the bed next to me indicated that would be to no avail! I even thought about getting up early and running by the store to get an ORANGE marker to color his foot and stamp my Bible. But I knew that checking in at 6 am and adding one more thing to our morning was probably not a smooth plan for surgery day.
Just Google It!
So I thought, maybe I will just google search an image, like scenery, sunsets, flowers or something that might include the verse from Psalm 139. That would at least be something I could save to my phone for a peaceful reminder during the long 5-hour surgery.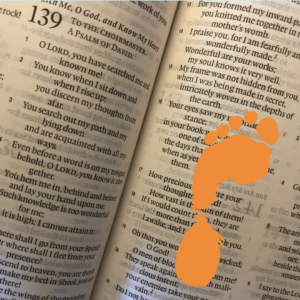 I grabbed my phone, typed in the search bar Psalm 139, and hit google images. I didn't look long or hard, in fact there it was in one of the first few images. I was utterly AMAZED to see what came across my screen. There was a clear image of a Bible page of Psalm 139 with little ORANGE BABY FOOTPRINT on it!! I kid you not!! I may have even gasped aloud before I cried. In that moment, I couldn't have felt more loved…more heard…more understood…more protected. God had this…even the small details, like an orange baby footprint!
Those are the moments. Those are the moments that God reveals himself in those still small ways that speak volumes to an aching, weary, worried heart. He did care. He was with me. And if He could manage those tiny, seemingly insignificant details, then He could and would take care of all the big things as well. Four years later, I still get goosebumps when I tell this story! (Does that happen to anyone else?!) Those are God winks! Hugs from Heaven!
Another Surgery is Necessary
As I prepare to go into this surgery next week, I can't help but relive those moments and memories of God's provision, protection, and presence. I pray that my eyes will be wide open as we go into this difficult situation. I pray that I wouldn't be distracted by anxiety and discouraged with fear that I miss His hand at work.
Now I can fill you in a bit on what this journey includes at this point. We went for a recent check (which they have kept up with for the last 4 years) and they could feel the tiny spot that had not closed. It seemed to be about the size of the end of my pinky. We thought we would probably have to fix that small spot and would do a scar revision at the same time. While we didn't like the idea of going in for another surgery, it felt reasonably manageable at that point. However, when we went for a pre-surgery assessment, they did an MRI. What the MRI revealed was something we, nor the doctors, had anticipated.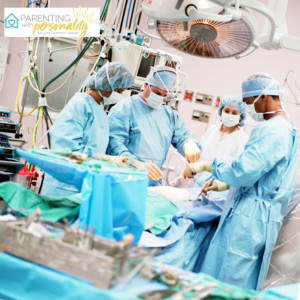 Surprising Even the Doctors
The areas of Bennett's skull that were supposed to have filled in, had not. They had removed a large center section from his head at 10 months that was nearly 2"x 6", had cut stair step incisions in the side of the skull, and had removed and reshaped his entire forehead. One side of his forehead had never fused back at the temple. A ridge had not filled in across the top of his head where the forehead meets the crown. And instead of being solid bone across the top, it was almost a spider web effect. Seeing the big holes in his skull was heartbreaking. Judging by the doctors' response, they were about as surprised as we were. You just couldn't feel all that from the outside. We had no idea.
We could hardly compose ourselves as they told us about the plan for surgery from here. I felt like we were deer staring into headlights. We could barely form our questions for what now sounded like a much more involved and intrusive surgery, like the first. My husband asked the pressing question on his mind…"Is this common?"
"No, in fact, it is very, very rare," the doctors answered. Even just the original repair surgery (as we had thought was only about the size of my little pinky) had been deemed to be rare…maybe 1 in 100. This, this was much rarer. And there was really no cause or explanation…just "very rare."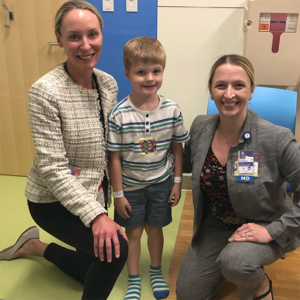 Preparations Underway
So now, we work to prepare a little boy that is very bright and verbal for pretty major surgery. While he usually likes to talk, he has been pretty quiet on this one. He doesn't really want to discuss it. He rarely asks questions, and then he wants to move on. His one simple request…"Can we please put those pictures (the MRI the doctor had been showing us) away, they are creeping me!" (I understood, they "creeped" me too!) Poor little guy!
We are spending lots of time together. We are laughing lots. That's supposed to be good medicine, right?!" And we are getting some special treats together for the hospital trip. And even though he doesn't want to talk about things, he is playing things!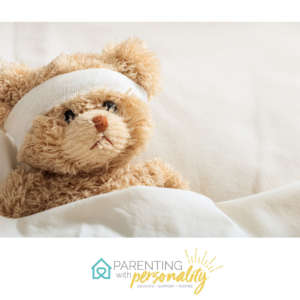 Taking Care of "Owies"
There have been more doctored stuffed animals in the last couple of weeks than you could ever imagine! We are covering many things in our play so the words and ideas might feel familiar. We are using our sleep mask. We talk about the kind doctors who have very good ideas to make us feel stronger and safer. We discuss the wake-up room and that people go there to wake up and get a kiss from their mommy right after surgery! We talk about taking care of "owies" and knowing that sometimes "owies" hurt before they feel better. And we snuggle. That might be even more for my heart than his! But thankfully, he is the world's best snuggler.
For a special treat, we even got some look-alike jammies for the hospital. (Lookalike outfits or shirts are always a hit in our family!) As I told him…we are buddies! I looked him in the eyes this morning and smiled, "I wish you didn't have to have surgery, but since you do, I just want you to know I will be with you every step of the way! We can do this! God's got us, Buddy!"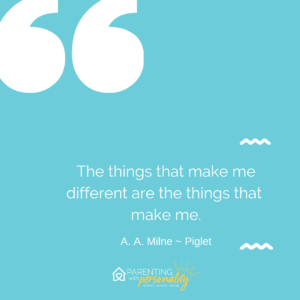 Special -Like Everyone Else
The little boy that has rejected much discussion about the matter, spoke with simplicity as we snuggled watching cartoons this morning. "Mommy…(long pause) Why couldn't God just make me like everyone else?"
"Great question buddy! You know, God made each of us special. C is way taller than everyone else. J's got a mind that works way faster than the rest of us. G has eczema unlike the rest of us. I am always more tired than everyone else. And you've got a special head that isn't like anyone else. I am just so glad that God has also given us doctors that can help make your head even stronger and safer!"
And with that, I knew that it was just the beginning. That would be a question he may ask about other things in life. Why? We don't know. But perhaps our perspectives and responses matter more than those challenges or differences. Because no one has a life so smooth sailing that they will never ask, WHY?! Right? And maybe, just maybe, this is his opportunity to learn this early. I can only trust God has a plan and a purpose for little Bennett, and for some reason, this is part of that plan.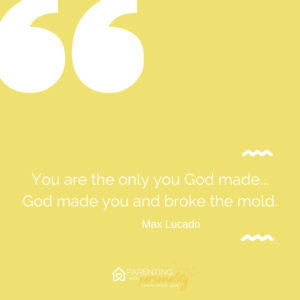 On The Tough Journey
You might find yourself on a journey that doesn't make sense. I know there are many others out there that have tougher journeys than what we are experiencing. Perhaps you need some encouragement and comfort. You might want to check out the Finding Truth in the Tough Times free resource. You can find it on your subscriber-only resource page, if you are not a subscriber yet, you can subscribe here for this and other free resources. The verses listed might bring you some comfort as you experience different emotions along the way. These are some of the very verses that are bringing me comfort during this time. In fact, I had a friend create pretty cards with them last time and I am still using those same cards four years later!
For this week, I will pray for perspective as I prepare, play with little Bennett, and take each step closer and closer to the challenge that awaits. We will savor our moments and laugh. Then we will pack our bags for the hospital and trust. (Maybe you are packing hospital bags too this week, or for an upcoming hospital stay? You just might find our packing list freebie helpful! Follow the link below to get access to the library of free parenting resources.)
Prayers & Hugs Appreciated
We would greatly appreciate your prayers for little Bennett as he heads into surgery next week! (Pun intended!) Please pray for his spirit to feel calm and assured. Pray that we as his parents can experience and impart a joy and peace that extends beyond our inner anxiety or fears. Pray that God will guide the hands of the surgeons in this four-hour ordeal and that they will discern the best avenues for his care. Pray that our eyes will be wide open to see God's hand at work in this difficult situation. And pray especially that Bennett will know and feel God's love like never before.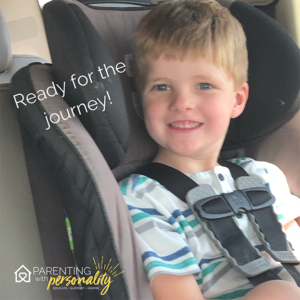 Can you think of times God has met you in "those moments" and provided in ways in you didn't anticipate? I encourage you to reflect and identify at least one of those times in your life. How might you use that memory of His care to assure you in the difficult times you face? I would welcome you to share your thoughts or hugs from heaven in the comments below.
Hugs For Your Journey,

P.S. To find out how the story began, click the images: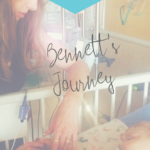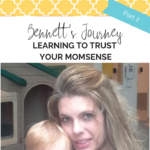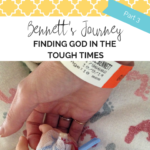 P.P.S. Look for these related resources on your Subscriber-Only Resource Page:
Tough Times Infographic
Finding Truth In The Tough Times
Trusting Momsense
Hospital Checklist